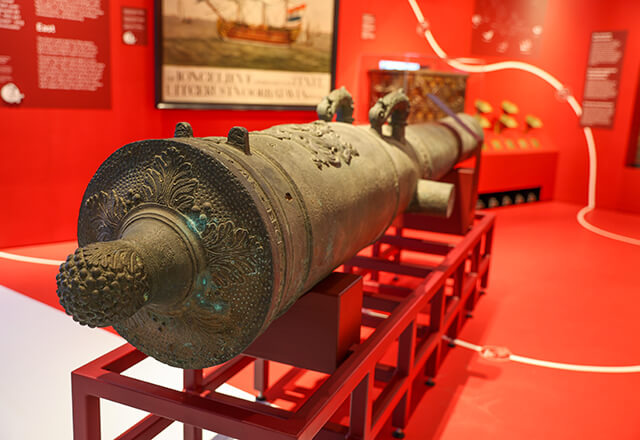 This immense bronze cannon was salvaged by Texel sport divers from the BZN-3 wreck in 1985. It is one of the few finds from this shipwreck but also a very important one. The elaborate embellishments on the cannon provide a lot of information. The Admiralty of Amsterdam emblem, the date 1638 and the text "EVERARDVS SPLINTER ME FECIT ENCHUSAE" can all be seen on the cannon.
The Rob
Information on the cannon tells us that it was cast upon command of the Admiralty in 1638, by the prominent cannon maker Everhardus Splinter from Enkhuizen. This knowledge helps us identify the shipwreck in which the cannon was found. It was possibly the wreck of VOC-ship the Rob. The Rob was built in 1639 and fought in October of the same year against the Spaniards in the Battle of the Downs. A few months later, in January 1640, the ship sunk near Texel before even being made ready to sail to the Indies.
If the BZN-3 really was the Rob, there were probably a lot of other cannons on board. According to the regulations, 'large ships' of the VOC had to take at least 32 cannons with them, including at least six made of bronze.
NB: Research continues to be conducted into the collection. For this reason, this article may contain obsolete information or outdated insights.