Museum Kaap Skil
Merchant vessels, warships, whalers: they all anchored on the Texel Roads. In the sixteenth and seventeenth century this was the place to load, unload and wait for favourable winds. But the seas were turbulent during strong winds and thunder storms. Sometimes ships were lost, resulting in dozens of shipwrecks lying on the seabed near Texel. In Museum Kaap Skil you can see the finds which divers and fishers have found in the wrecks and discover all kinds of things about the adventures of the seafarers. Step back a hundred years in time and experience island life in the open-air museum, with its authentically furnished cottages, windmill, beachcomber's shed and smithy.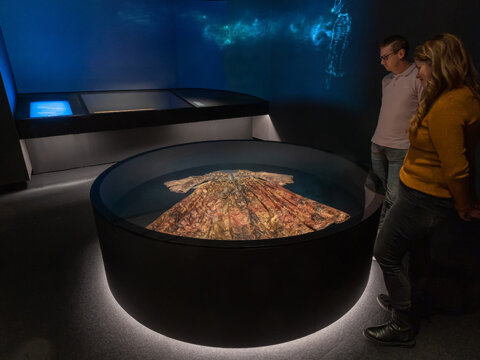 Palmwood wreck
Such wealth: the most exclusive objects from the 17th century Palmwood Wreck have been brought to the surface. Ranging from a gilt silver cup to a luxurious toiletry set. The owner must have been immensely rich! The most extraordinary finds are textiles, with a silver wedding dress and beautiful silk dress as absolute showpieces. Admire them in the Palmwood Wreck exhibition.
Read more
World Voyage
Global trade in the seventeenth century knew many faces. These various aspects and the central role which Texel played in the era are brought to life in the  exhibition World Voyage at Museum Kaap Skil.
Read more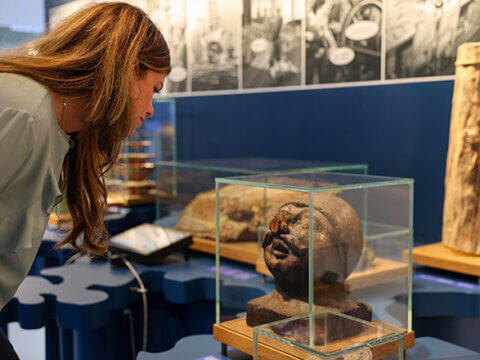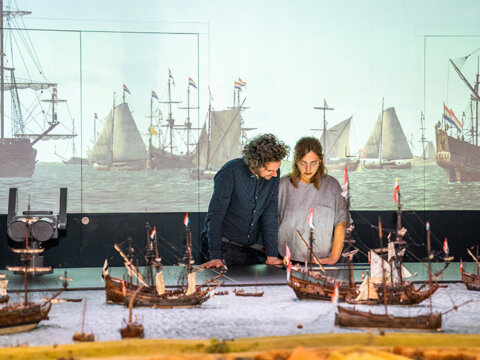 Ship in Sight
In the exposition 'Ship in Sight – the Roads of Texel and the World', the Roads of Texel come alive. A dimension has been added to the world's largest maritime scale model. The hidden stories about the 160 ships have become visible, thanks to new technique. They show that the Roads of Texel was the logistic hub of the seventeenth century.
Read more
Support us
Museum Kaap Skil is a discovery voyage along Dutch maritime history, in which Texel played a central role. The goal: to pass on knowledge of this cultural history, to preserve it and to increase appreciation for it. At Museum Kaap Skil, local finds from the sea tell a global story. Are you enthusiastic about Museum Kaap Skil and would you like to contribute to this goal? Become a Friend or Partner of the museum!
View all options