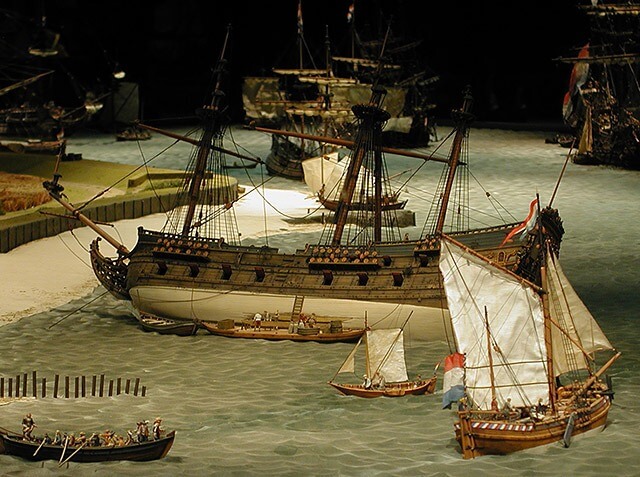 The Amste-lant was a pinas. Pinas schooners were fast, well-armed sailing vessels with considerable room for cargo. Thanks to these features, pinas schooners were popular among pirates.

The Amste-lant was 40 meters long and 9.5 meters at the beam. It was built in Amsterdam in 1660, commissioned by the VOC. In 1665, a fleet of ten East Indiamen returned to the Netherlands. It was the most profitable VOC fleet which ever returned to Holland from Batavia. Due to a threat for a new war between England and the Dutch Republic, the fleet was diverted to Bergen in Norway. There the fleet was attacked by the English on 12 August 1665. Under leadership of Commander Pieter de Bitter and with support from the Danish, a favorable easterly wind and drizzle, the VOC was able to repel the attack. In October, the VOC fleet ventured back to the Roads of Texel. Unfortunately, the fleet ran into a passing storm on 25 October. The Amste-lant and another ship perished off the coast of Terschelling.
The model is based upon a pen drawing by Willem van de Velde de Oude. The Amste-lant is heeled over on the Roads of Texel. After returning from Batavia, the crew has been discharged, the cargo unloaded and the rigging removed. Now that the ship is empty, the carpenters can repair the crack in the ship's hull by replacing the damaged planks. Naturally, the work on the ship attracts attention from those on the beach.