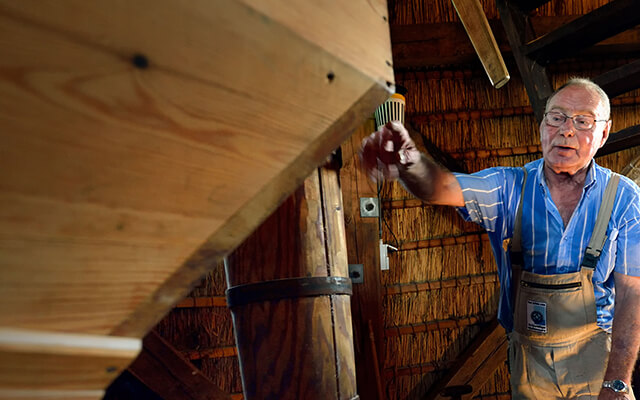 There is working grain mill on the grounds of Museum Kaap Skil. The monument dates back to 1727.
After working for almost two centuries in Zaandam, the mill was moved to Texel in 1902. Its name comes from the days in Zaandam, when the mill stood on the Traanroeyersloot (ditch).
The mill is accessible up to the second level for visitors to the museum, in miller terms – the attic. When the millers are present, the third floor – the stone loft – is also accessible. This is where the enormous gears turn, driven by the blades. With wind forces 5 or more, grain can be grinded. Lifting the bags of wheat is also accomplished with wind power. An impressive spectacle! The millers work in the Traanroeier on Wednesday and Thursday afternoon. More information about the Traanroeier and how to become a donor can be found on www.traanroeier.nl.