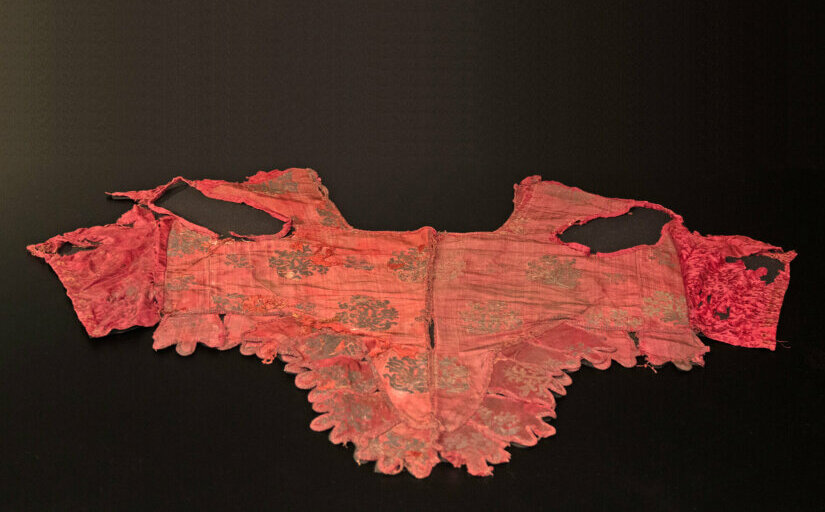 The Red Bodice is one of the most well-preserved articles of clothing to be found in the Palmwood Wreck. The colours and adornments are still beautiful to behold and there are various well-preserved details on both the front and back. This makes is possible to determine precisely how the garment was made and how it would have been worn.
Attachments
The bodice would have been worn with sleeves, most probably made of different material. It includes eyelets upon which a belt or separate skirt could have been attached. The stitched loops around the neck may have been intended for attaching a collar, or perhaps for jewellery or pearls.
Brocade and damask
The bodice consists of various pattern parts: two large front pieces, two narrow side pieces, fourteen decorative flaps on the underside – all made of red brocade – and two back pieces made of dark red damask. The back pieces have at least thirteen eyelets and the underside of the front pieces have another five. Remnants of a plain beige-coloured silk lining can be seen on the inside. The whole bodice was probably lined with this material. Imprints of whalebone stiffeners are also visible.
Fashion
Details in the bodice design correspond with typical clothing styles from the early 17th century in Northern Europe. These types of garments were worn in German regions, Bohemia, Denmark and the Dutch Republic.
NB: Research continues to be conducted into the collection. For this reason, this article may contain obsolete information or outdated insights.