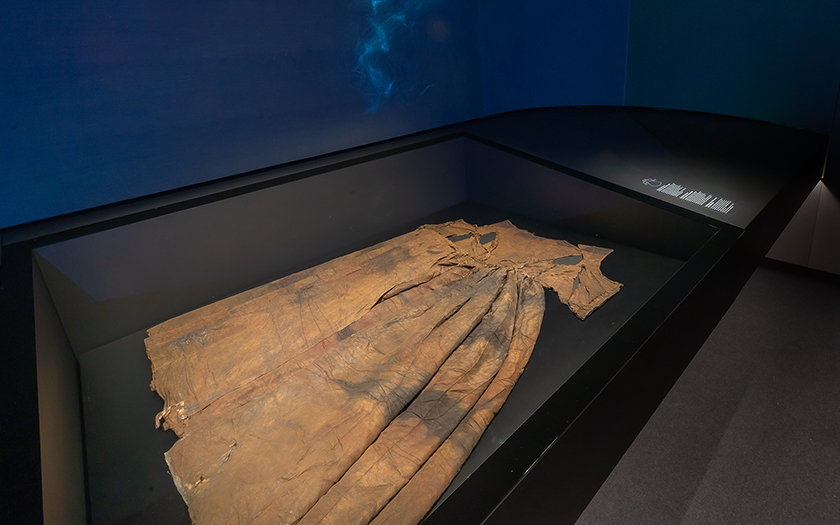 So many treasures in just one ship! Divers found the most fantastic and valuable objects in a shipwreck in 2014. They named it the Palmwood Wreck, after the many trunks of palmwood (boxwood) found in it. The ship, full of exclusive, unique and luxurious goods, was a merchant ship that must have been wrecked on the Texel Roads around 1650. The finds, which appeal very much to the imagination, are now on display in a new exhibition at Museum Kaap Skil.
Silk dress
Each and every find from the Palmwood Wreck is special, with a completely intactly-preserved silk gown as absolute highlight. This Dress radiates so much wealth that it must have belonged to a lady of the highest social classes. Seventeenth century textiles are very rare and those from underwater finds are absolutely unique. For this reason, scientists refer to this dress as 'the Nightwatch of the textile world.' The Dress enjoys a prominent place in the exhibition and can be admired from all angles.
Wedding dress
The Dress was not the only textile artefact to be found in the wreck. The total findings were so extensive that researchers have been working for years to make an inventory. This has meant that it has only recently been discovered that a second dress from the Palmwood Wreck was most probably a wedding dress, adorned with silver. This dress was less well-preserved and, in an animation in the exhibition, it is restored in all of its former glory.
Themes
The finds are divided into four themes in the exhibition: wealth, worldly, intimate and stylish. Together they show how valuable, tasteful and exclusive the cargo was.
One example of wealth is a calf leather bookbinding, bearing the English royal family Stuart's coat of arms in gold print. A gilt silver cup is also included in this theme.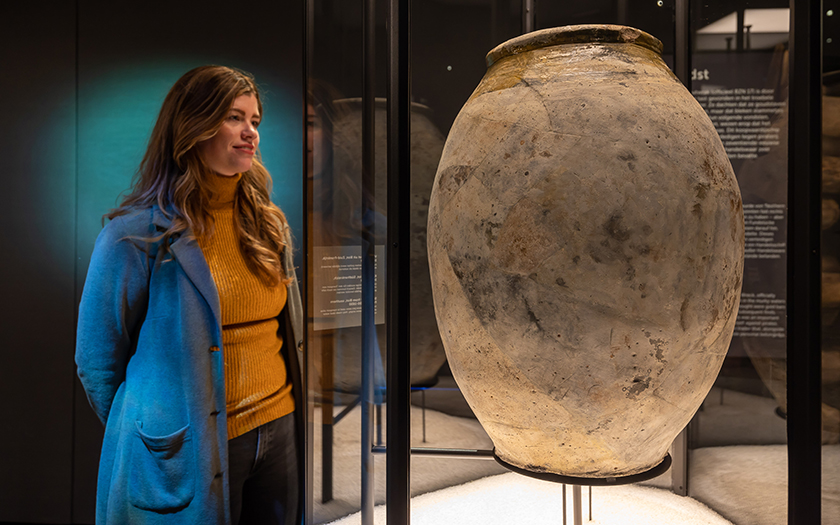 Worldly are the objects which were gathered from all corners of the globe: an oriental rug and a kaftan.
Intimate objects feature a toiletry set, including an exquisite mirror and a beautifully decorated comb case.
It's all stylish really, and this theme is fittingly represented by a pair of delicately knitted silk stockings and a red silk bodice.
Exhibition
Airtight display cases, filled with nitrogen, have been especially designed for the fragile textiles in this exhibition. The two dresses and a number of other textiles finds can be safely displayed in these cases. Numerous research projects have found answers to many questions but a lot of questions remain unanswered. Who was the owner of the Dress and the other valuable possessions? Why was it all on a ship? Was anyone ever married in the wedding dress? Come and marvel over this intriguing collection at Museum Kaap Skil and let your imagination run wild about everything we do not yet know.