"The seventeenth century. Texel is thé center of the world seas. It is bustling off the coast of Texel. Merchant vessels and warships depart from the Roads to sail the world."
In the exposition 'Ship in Sight – the Roads of Texel and the World', the Roads of Texel come alive. A dimension has been added to the world's largest maritime scale model. The hidden stories about the 160 ships have become visible, thanks to new technique. They show that the Roads of Texel was the logistic hub of the seventeenth century.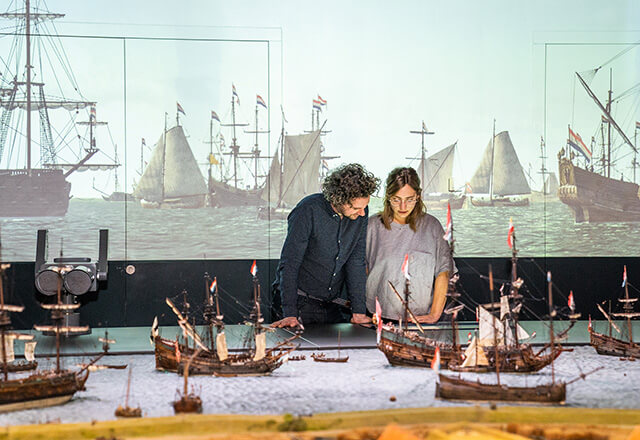 On large touchscreens, you see the ship models very close up, down to the smallest details. For example, the Seven Provinces, the ship with which Dutch admiral Michiel de Ruyter won many navel battles. Or the Petronella, a fluyt ship headed to Riga to buy grain. Discover the features, the routes the ships sailed, the personal stories, special facts and important events.
Come to Museum Kaap Skil and join the voyages of the whalers, fluyt ships and warships which once lay on the Roads of Texel.