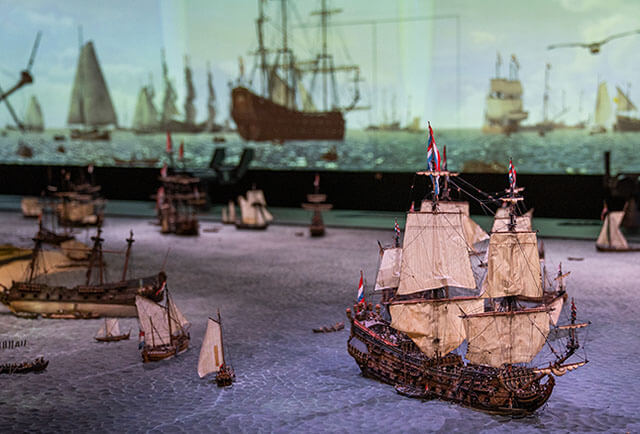 The world's largest maritime scale model is located in the basement of the entrance building at Museum Kaap Skil. This 18-metre-long display portrays a moment in time on the Texel Roads, with surrounding activities, in 1660. The Texel Roads was one of the most important anchorages for shipping in the seventeenth century. The scale model includes about 160 minutely reconstructed ships and boats. You can see the historic replication on scale.

Time for repairs
Every ship on the scale model has been realistically reconstructed. There are also all sorts of detailed scenes portrayed on and around the ships. For example, you'll see the Amste-lant lying heeled over so that the ships' carpenters could repair the damaged hull. The Amste-lant was a 40 metre long, 9,5 metre wide pinas. Pinas schooners were fast, well-armed sailing vessels with considerable room for cargo. The Amste-lant had just returned from a journey to Batavia at the moment portrayed on the scale model.
East Indiaman
Even larger than the Amste-lant is the Oranje. The Oranje was an East Indiaman, specially designed for long voyages to the Indies. The ship was 48 metres long and 11 metres wide and had a large capacity for carrying trading goods. At the portrayed moment, the crew didn't yet know about the ship's new destination. In 1665, it was hired by the Admiralty of Zeeland for use in the war against the English. This was to be the downfall of the Oranje.
Merchant ship
Various merchant ships can be seen on the scale model. Some with faraway destinations, others which sailed nearer home. There was busy trading being conducted with the countries around the Mediterranean and Baltic Sea. One example of a merchant ship, destined for trading via the Mediterranean Sea, is the Vrouwtje van Stavoren. You can see this fluyt lying for anchor on the scale model. It was a fast sailing vessel, quick and easy to load and could be sailed with a small crew.
Warship
The Hollandia is of a different calibre than the merchant ships. This warship was 46 metres long and 12 metres wide and was the flagship of the Dutch war fleet for a long time. Cornelis Tromp and Michiel de Ruyter both sailed aboard this ship! At the moment portrayed on the scale model, the Hollandia had just returned from a mission. She joined many sea battles during the war against the English.
Hustle and bustle
The many ships anchored on the Texel Roads also provided plenty of work on the island. Ships were supplied, pilot boats guided ships past shallows towards the open sea, reparations were conducted and crews sought entertainment onshore. These activities are all shown on the scale model, illustrated by about 2000 miniature figures. Those curious to find out more about the stories, voyages and features of the ships can do so on the touchscreens around the scale model.